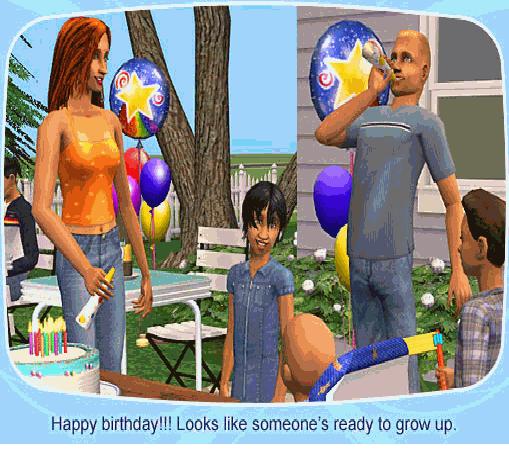 Welcome To sims2 homepage by dan
hye im dan and im mad about the sims2, ever since i laid eyes on it. i think its a new generation of great games- the graphics, gameplay and idea are all amazing.
5 DAYS UNTIL THE SIMS 2 RELEASE IN GREAT BRITAIN
Tuesday, August 31, 2004
Chat with Lucy Bradshaw and Charles London on September 2nd at 3pm PST.
Thanks to everyone that showed up! For those of you who missed it, the transcripts have been posted.
>> Read Transcripts
Wonderful, whimsical, and busting with new features, The Sims 2 is going to draw you in and then blow you away!
About the game | FAQ | System Requirements
Pre-Order
the game(and site) updates
here i will be showing you vintage info:
Tuesday, September 7, 2004




The Showcase Shuts Down Uploads


In anticipation of The Sims 2, we'll soon be launching The Sims 2 site revamp. In preparation, though you will be able to continue downloading, The Sims 2 Showcase will no longer accept uploads to the site.


>>

Find Out More

- - - -
Thursday, September 2, 2004




Designer Diary - The Sims 2 Bloopers


GameSpot.com has posted a bunch of bloopers from The Sims 2 in the latest installment of The Sims 2 Designer Diary. A video with Lucy Bradshaw is also available.


>>

Let The Laughs Begin


>>

Video Interview
Friday, August 20, 2004




IGN.com Interviews Lucy Bradshaw


"I just can't think of a single moment that has not been fun."


>>

Go To IGN.com
- - - -
Thursday, August 19, 2004




Nervous Subject's Unnerving Day


Introducing Strangetown's very own Nervous Subject. Watch as he struggles to get through his unnerving day unscathed. Even for this hapless Sim, who is regularly treated to cruel and unusual experiments by the Beaker Family (all in the name of science, and the occasional odd spot of fun), the trials of this day may prove to be too much.


>>

Go To Videos
Looking For Old News Items?


In case you missed a something, you can find all news items in the News Archive.


>>

Go To News Archive
when is it released in the uk?
The game is 99.9% certain to come out on 17th september because the game has gone gold, meaning it is completed and will be shipped for september 17th!